It's an important design decision – picking a piece to illuminate important gatherings, add glamour to dinner parties and cast a glow over family dinners. Too large and it'll overwhelm the space, too small and you sacrifice design impact.  Lighting direction (where the illumination is aimed) and flexible lighting (dimmers) are also things to consider:
ADD LAYERS OF LIGHT
Just as its important not to under light the room, a gorgeous chandelier on all time may create an uncomfortable glare. Think hard about the room's function and how people with interact at the dining room during different times of the day.  You might want to consider additional wall scones (ambient lighting) some downlighters (functional/task lighting) or cove lighting (accents)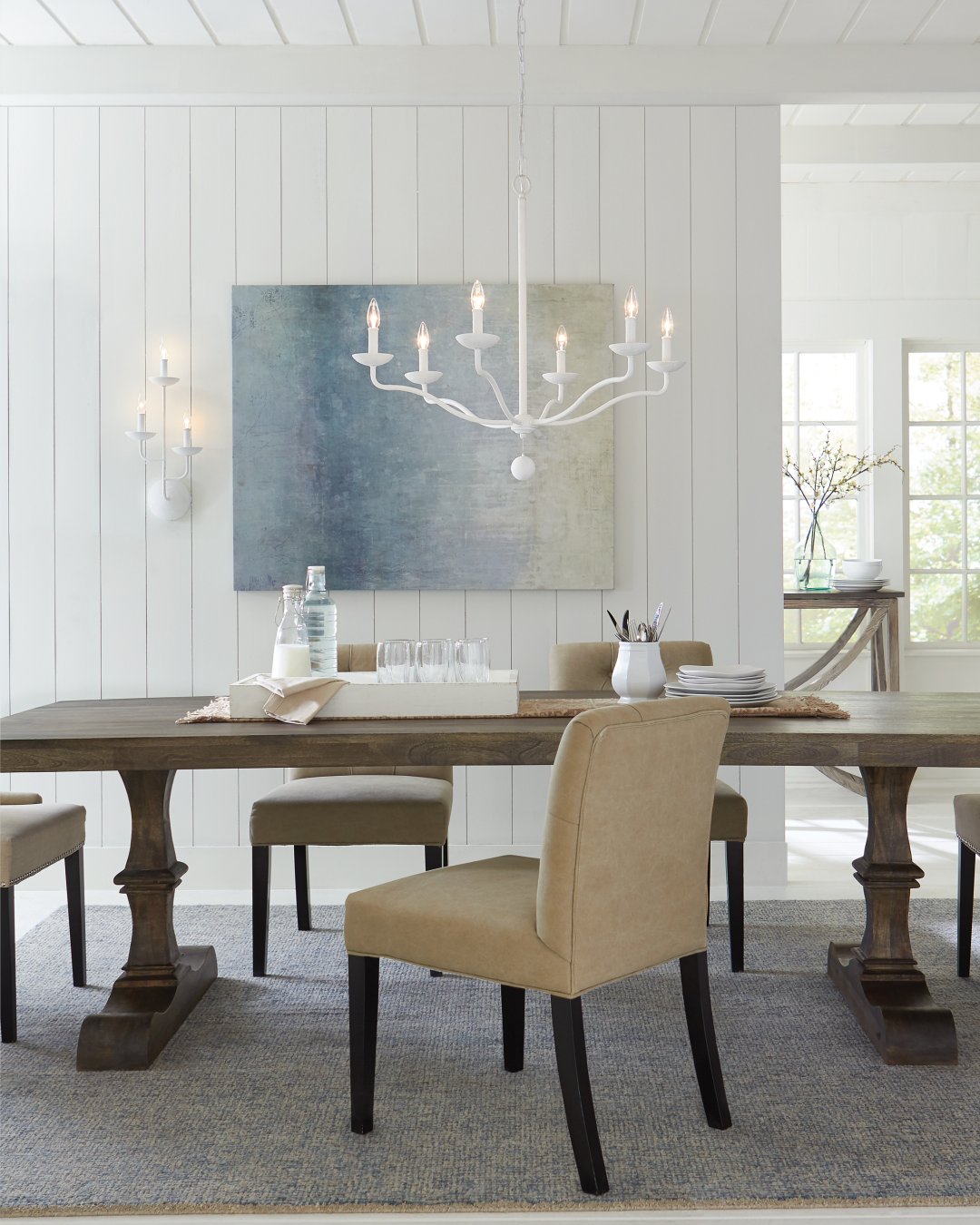 combination of a 6LT chandelier and 3LT wall sconce are an example of layered lighting in this farmstyle dining area
SIZE AND HEIGHT
General rule of thumb is to have the size of the light 1/2 to 2/3 the width of the table itself.  Consider a dome or round shape for round tables or an island light for an oblong shaped table
RING 2 tier chandelier                                   EVITA 3 light                                                  ETERNITY pendant
The best height for the light to hang above the table is 80-100cm, ideal for illluminating the table surface without blocking diners views of each other or shining in each others eyes
Low ceiling would benefit from flush or semi flush lights
PRISMA flush lantern                                     SATURN semi flush                     ARACHNID semi flush
If you are lucky enough to have a high ceiling dining room you cannot go wrong with a multi-tiered chandelier, retro or modern
FAIRYTALE 25LT with crystals
FLEXIBLE LIGHTING
You will not regret adding a dimmer switch to your dining room light if you want it to serve your kids doing an art project or hosting a romantic dinner. Be diligent, because not all LED fixtures are dimmable, and some flicker when lowered. Your lighting consultant /retailer should be able to assist you with this.
CONSIDER DECONSTRUCTED CHANDELIERS
If you're looking to express your artistic side, a deconstructed chandelier offers a lot of flexibility and drama. Hanging pendants at different heights can provide a similar effect
If you'd like to chat to a lighting consultant, don't hesitate to give us a call